Meet Our Girls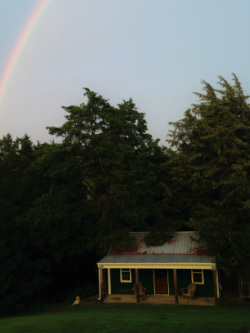 It is my pleasure to introduce Cedar Crest Kennel's beautiful Golden Retriever dams, Macey, Maggie and Megan.Megan is the monarch of Cedar Crest Kennel. She is mother to Maggie and Macey. All of our females possess the attributes required to become a treasured member of your family.
We've recently retired Megan who is now enjoying her days as a Grandmother. Before her retirement, she was bred to Phil and Orion – beautiful full English Golden Retrievers. Both parents are OFA certified for hips and elbows and come from strong, well-established bloodlines. We are extremely proud of this top-notch breeding. And, we continue this wonderful blood line with Maggie and Macey, both of whom possess wonderful dispositions. These two girls will be bred to Romeo who is a beautiful full English Golden retriever. They are people pleasers and simply enjoy being with family and our other animals, especially their friend, Smokey – a pound-puppy rescue. In addition, both girls are participants in the research study by Morris Foundation of Golden Retriever Lifetime. To learn more about this study, visit
www.morrisanimalfoundation.org
. At Cedar Crest Kennels, we are very grateful to participate in this groundbreaking research.
Cedar Crest Kennel is situated on a 12-acre farm. At our kennel, we have worked diligently to produce a bloodline steeped in good health with strict adherence to breed standards. This philosophy results in intelligent offspring with wonderful dispositions. We provide a full-size kennel with nursery for new puppies. We are a small, cozy, family-owned kennel that produces two special puppy litters each year. This is truly a family event at Cedar Crest, and our puppies are socialized well from the amount of attention received from our three children, their friends, and our large, extended family.
Each puppy comes with a health and written guarantee, a puppy starter kit, and is microchipped for his safety and your peace of mind. New owners also receive a $75 refund when you elect to spay or neuter your puppy prior to his first birthday. A puppy from Cedar Crest Kennels will make a wonderful addition to your family.
Please call or email any questions you may have. It's always a pleasure to discuss the question you have about our Kennel.
Contact me, Dede York, at
mty.yorks@gmail.com
or 931-224-2221.
---
---
| | |
| --- | --- |
| Meet Our Family | Watch Us Grow |
Keep visiting us for updates to watch us grow and change.